Beverages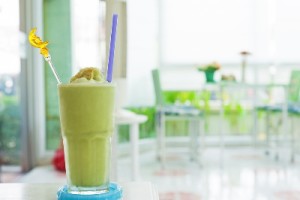 Green smoothies, fresh fruit, and all of the great benefits of green tea come together in this delightful smoothie. It makes a perfect breakfast or afternoon snack. You'll be full of energy and ready to take on anything that comes your way.
Ingredients
1 banana (fresh or frozen)
1/4 of a fresh mango
1 fresh kiwi, peeled
2 cups loosely packed kale
1 1/2 cup fresh brewed green tea, cooled
1/2 cup ice
1 tbsp honey Continue reading →
Ingredients
Half a pineapple, peeled and chopped
2 small bananas, peeled and chopped
1 peach, stoned and cut into quarters
Directions
Blend all the fruit until smooth and enjoy! For a healthier smoothie try throwing a little spirulina powder or a few flax seeds before blending – these are great super foods and you'll find them at your local health food store. Continue reading →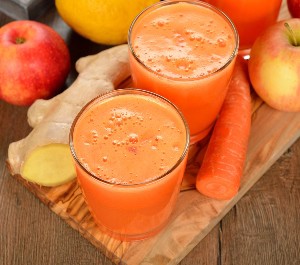 This is the perfect first time juice as it's relatively easy to get used to the taste.
Ingredients
4 carrots, peeled
2 apples, cored and chopped
Sprinkle of ginger
Tip: Fruit juices are great for overall health. At first it takes a little time to get used to the taste, but eventually you'll get there…. Just think of all those health benefits! Another tip is to mix your fruit juice with a little natural apple juice (juice apples along with the veggies) to give it a sweeter taste.
Directions
Juice according to juicer instructions and enjoy! Continue reading →
Ingredients
1 cup frozen organic sliced peaches
1 container (6 oz) Fat Free French vanilla yogurt
3/4 cup orange juice
1 tablespoon honey
Directions
Place sliced peaches in the bottom of blender. Blend on low speed to chop peaches in small pieces. Add yogurt and blend on high for approximately 1 minute or until creamy. Make sure peaches are completely pureed. Add orange juice and honey. Blend about 30 seconds more to mix all ingredients together. Serve.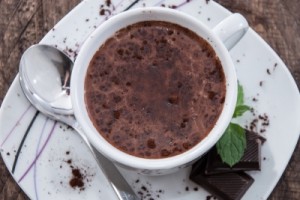 Sometimes you really just need some chocolate, and not just a little chocolate sprinkled or drizzled on something else. I used to go to hot chocolate for moments like that but there were times that just didn't quite hit the mark. I started thinking about those fancy drinking chocolates.
If you don't know what drinking chocolate is, it's kind of like hot chocolate but it's very thick. It's somewhere between hot chocolate and chocolate pudding and meant to be sipped on.
This recipe is very rich. You won't need a lot of it to get your fill! This recipe uses mint but you can use different extracts for different flavors. Continue reading →