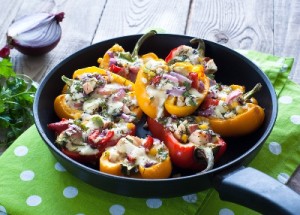 This isn't so much an actual burrito as much as a way to enjoy all of the flavors in a breakfast burrito without worrying about too many carbs. You'll still get eggs, cheese, and tasty fillings but the rather than delivering them to your mouth by tortilla you'll be delivering them by bell pepper!
That's right, we're going to create a tasty breakfast stuffed pepper.
Note: This recipe is for 4 peppers, enough to serve four people.
Ingredients
4 bell peppers (any color)
6-8 eggs (can substitute two egg whites for one egg if you wish)
1 large white onion, chopped Continue reading →