Vegetarian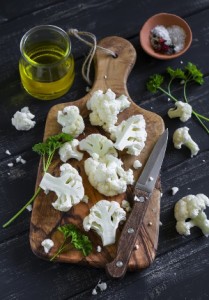 I love that cauliflower is seeing so much more love these days. It's no longer simply steamed or boiled and served. People are creating so many great recipes with it!
Lately I've enjoyed using cauliflower as a way to deal with my craving for fried food by creating little fried patties packed with nutrition.
Ingredients
1 head of cauliflower, cut into florets and steamed
1 egg
1/2 of a white onion, chopped finely
1/2 cup whole wheat flour
2 cloves garlic, minced
1/4 tsp chili powder
1/4 tsp paprika
1 tsp seasoning salt
3 tsp olive oil Continue reading →
Ingredients
1 tsp olive oil
3 ¼ cups vegetable broth
1 clove garlic, minced
¼ tsp pumpkin pie spice
¼ tsp ground ginger
½ cup cooked butternut squash, pureed
1 cup dry polenta
2 ounces of fat-reduced cream cheese, cubed
¼ cup Parmesan cheese, grated
Fresh parsley
Salt and pepper to taste
Directions
In a saucepan, heat the oil and sauté the minced garlic briefly. Add the vegetable broth, ginger and pumpkin pie spice and bring to a rapid boil. Add the polenta and stir quickly. Reduce the heat and cook for about 30-40 minutes Continue reading →
There is nothing like a great sandwich filled with flavorful and natural ingredients. One of my favorite combos is avocado and tomato, but when you use hummus as a base it brings it all to the next level.
You can buy any flavor of hummus you want. When buying it I like to go with sun dried tomato or garlic. Ideally I make it myself when possible, but we all know that sometimes life is a little too busy for that! Continue reading →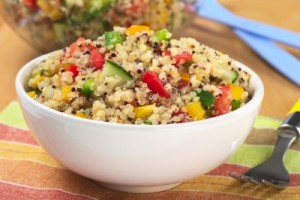 This is a tasty, warm salad filled with amazing vegetables. You get tons of flavors, colors, and textures. It's a mindful eater's dream! All of these nourishing foods come together to create a tantalizing dish that will satisfy every sense.
Ingredients
1 cup quinoa (Traditional is more flavorful but red has more nutrients and has a pretty color, you choose whichever you want!)
2/3 cup chopped white onion
1 1/2 cup chopped zucchini
1 cup chopped yellow squash
2 cups fresh green beans, chopped
8 cloves of garlic Continue reading →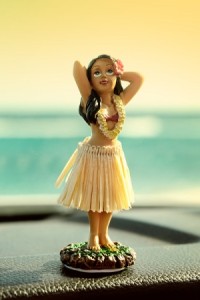 Veggie burgers are lower in calories and fat than regular burgers but packed with flavor. Add on some avocado for some healthy fats and pack it with Hawaiian flavors and you've got a fast and easy meal that'll please the entire family! This recipe is for a family of 4.
Ingredients
4 whole wheat hamburger buns
4 veggie burger patties (choose your favorite)
1 mashed avocado
4 slices of pineapple
Your favorite BBQ sauce
2 cups alfalfa sprouts
Directions
Cook the patties however you prefer them cooked. I like to grill them and also throw the pineapple on the grill.
Toast the burger buns. Spread ¼ of the avocado on each bun Add the burger patty and pineapple. Pour about two tablespoons of BBQ sauce on. Toss on about ½ cup of alfalfa sprouts.
Top with other half of bun and enjoy!