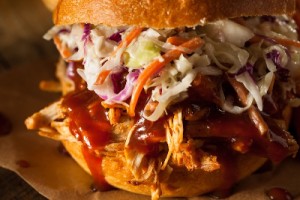 This is a great twist on traditional BBQ Pulled Pork. Pulled pork is a little problematic because most people make it with a ton of BBQ sauce which is loaded with sugar. We cut a bit of the sugar out but still pump it full of flavor.
To cut some extra carbs I like to do this as an open faced sandwich topped with a bit of shredded cheese rather than using a bun.
This is a slow cooker recipe so be ready for it to take around 6 hours to prepare.
Ingredients
1 8-ounce can tomato sauce
1 4-ounce can green chilies, drained
3 Tbsp. apple cider vinegar
2 Tbsp. honey
1 Tbsp. paprika
1 Tbsp. tomato paste
1 Tbsp. Worcestershire sauce
2 tsp. dry mustard
1 tsp. ground chipotle
2 1/2 pounds boneless chicken (breasts or thighs both work)
1 medium onion, chopped
2 cloves garlic, minced
Low carb buns
Optional: grated cheese and additional chopped onions
Directions
This really couldn't be any easier to make. Toss in everything from the tomato sauce to the ground chipotle in your slow cooker and stir. Carefully add the chicken, onions, and garlic.
Put on the lid and cook for around five hours. You know it's done with the chicken comes apart easily with a fork. Use two forks to shred the chicken and mix it in with the sauce.
Put one half of a bun on each plate, top with chicken, and garnish with cheese and onions.