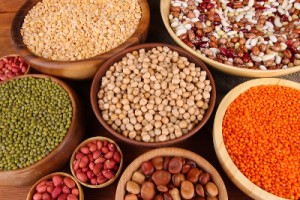 This recipe is super easy and it's chocked full of beneficial fiber.
Ingredients
1 16oz can butter beans
1 16oz can, great northern beans
1 16oz can garbanzo beans
1 16oz can black beans
1 16oz can pinto beans
1 16oz can kidney beans
2 cups tomato sauce
1 onion, chopped and sautéed
2 Tablespoons mustard
1 Tablespoon barbecue sauce of your choice
1 teaspoon dry mustard
1/4 cup brown sugar (if desired)
Directions
Open beans and drain well. Combine all beans in a large bowl. In another bowl mix all other ingredients. Stir mixture into bowl containing the beans and mix slowly. Pour mixture into a 9X13 inch baking dish. Bake in a preheated 350 degree oven for 60 minutes.
Tip: This dish can be served hot or chilled and served cold after baking. You can also use any variety of beans you like.