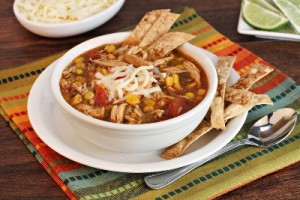 Spicy food is great for people trying to lose weight. The same part of the pepper that makes food spicy can also help to boost your metabolism. Spicy foods are also known to help suppress your urge to overeat. This soup is great served on its own or on top of a small serving of rice.
Ingredients
1 tbsp. coconut oil
2 cloves garlic, minced
1 lb chicken breast, chopped
1 tsp cumin
1 tsp chipotle chile powder
1/4 tsp salt
1/2 tsp pepper
1 cup water
1 1/2 cup low sodium chicken or vegetable broth
1 can stewed tomatoes
3/4 cup tortilla chips, crushed
1/2 cup fresh cilantro, lightly chopped
1 lime
4 tbsp. of your favorite shredded cheese
Directions
Heat the oil up in your pan over medium-high heat. Sauté the chicken together with the garlic until the chicken is browned on all sides.
Add the cumin, chipotle, salt, and pepper. Mix until chicken is coated.
Pour in the water, broth, and tomatoes and then bring it to a bowl and simmer on low for about 10 minutes.
Dish up into bowls. Top with a pinch of cheese, a small handful of tortilla chips, some cilantro, and a slice of lime.