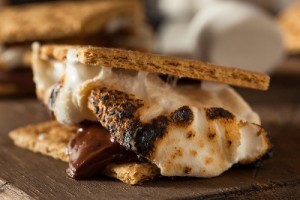 When your sweet tooth hits what is your go-to snack? I've got a lot but sometimes you just really need a touch of chocolate. S'mores are great because they're already portion sized, but it's not practical to start a fire to make them the traditional way each time you want one.
You can actually make some really great indoor s'mores with your oven! We cut calories by not turning it into a sandwich and controlling how much chocolate we add.
Ingredients
1 graham cracker, broken in half
2 marshmallows
1 tbsp. of your favorite chocolate chips
Directions
Turn on your oven's broiler so it can start heating up.
Prepare your baking sheet by covering it with parchment paper (to save on clean up). Place the crackers on the sheet and put one marshmallow on either.
Put the chocolate chips in a bowl and microwave for 10 seconds at a time, stirring between, until melted.
Put the baking sheet in the oven with the door left slightly ajar so you can watch them closely. Remove when the marshmallows start to brown.
Drizzle chocolate on top. Serve while hot.