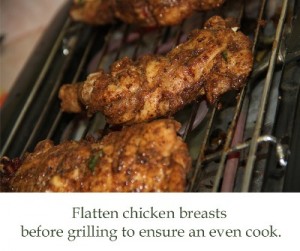 Adding spice is a great way to encourage you to savor your food. It's harder to quickly eat something spicy! I also love the complex flavors that come from dishes using curry seasonings. They're a great experience.
Ingredients
4 boneless chicken breasts
3 tablespoons coconut oil
1 teaspoon lime zest
1 teaspoon ground cumin
1 teaspoon ground coriander
2 tablespoons low sodium soy sauce
1 teaspoon salt
2 teaspoons curry powder
1/4 teaspoon cayenne pepper
2 tablespoons sugar
1/2 cup chilled coconut milk
Juice of half a lime
1 minced serrano pepper
1/3 cup fresh cilantro, chopped
Directions
Clean and trim the chicken breasts. Mix all ingredients besides the chicken and cilantro in a small bowl. (Melt the coconut oil first.)
Put the chicken and sauce in a Ziploc bag and marinade in the refrigerator for 3-4 hours. Once you're ready to cook you'll need a small saucepan and a grilling pan.
Pour the marinade into the saucepan and cook on medium heat. You want it to boil for about 1-2 minutes, stirring constantly.
Grill the chicken breast by cooking them until they're browned on both sides. Once the chicken is on the plate, drizzle it with the sauce and sprinkle with fresh cilantro.