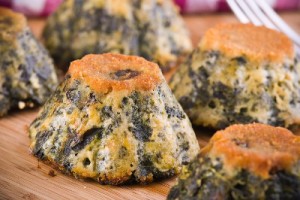 Spinach cheese cakes are great because they're packed with healthy veggies and protein, they're portioned in little cakes, and you can make a bunch and reheat them later. They make good side dishes with lunch and dinner and can be packed in a lunch box as well. They also only take a few ingredients!
Ingredients
12 cups of adult spinach (remove the tough stems)
1/2 cup cottage cheese
1/2 cup Parmesan cheese
2 eggs
2 cloves garlic, minced
1 tsp cumin
1/2 tsp chili powder
1/4 tsp salt
1/4 tsp pepper
Directions
Preheat your oven to 400 degrees F. Spray your muffin pan with cooking spray.
Put the spinach and garlic in your food processor and pulse until chopped finely. It will take a few batches.
In a bowl, mix the spinach with the cottage cheese, Parmesan, eggs, garlic, cumin, chili powder, salt, and pepper. Stir until everything is well combined. Fill the muffin cups 3/4 of the way.
Bake until the middle is set, 15-20 minutes depending on size. Allow to cool in pan for five minutes before removing.