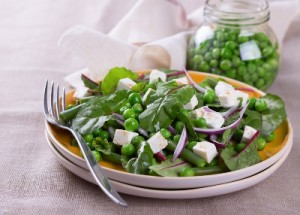 This salad is so tasty and refreshing. You use fresh peas that are lightly cooked, fresh arugula, and tasty feta cheese along with a light lemony dressing. You can whip it up in just a few short minutes so be sure to keep the ingredients on hand!
Ingredients
1 pound fresh green peas (or 1 cup shelled peas)
2 cups boiling water
6 cups fresh arugula
1/4 cup fresh mint, lightly chopped
Juice of half a lemon
1 tbsp. olive oil
Salt and pepper to taste
Two ounces of feta cheese, crumbled
Directions
Shell the peas if they aren't already and pour them into the boiling water. Cook for one minute, strain, and rinse with cold water until peas are cold.
Combine the peas, arugula, mint, lemon juice, olive oil, salt, and pepper in a large bowl and toss.
Sprinkle feta cheese on top and serve.