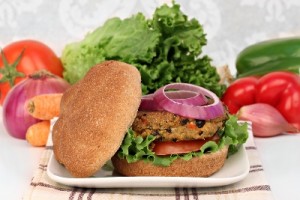 I love a good burger as much as anyone else, but meat can get to be pretty expensive. You can go for cheaper meat but it's usually loaded with extra fat. You can save a lot of money and still have a great burger packed with flavor and good nutrition by opting for a black bean burger instead. Don't go running to the freezer section either, they're much cheaper to make yourself and don't take very long at all!
Ingredients
1 can black beans
1 egg
1/4 cup bread crumbs
1 clove garlic, minced
1/2 cup chopped green bell pepper
1 small jalapeno pepper, chopped and deseeded
Directions
Preheat your oven to 350 degrees F and line a baking sheet with parchment paper. Drain and rinse the beans and pour them into a large bowl. Mash them up well. Add the rest of the ingredients and mix well so everything is combined.
Form them into patties. This should make 4-6 depending on how big of a burger you want. Optional – Put some oil in a skillet and cook them until they're slightly browned on both sides.
Arrange them on your baking sheet and bake for 10 minutes, flipping about 6 minutes in.