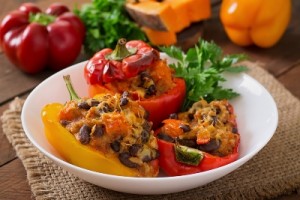 Note: This recipe is especially for those with a gluten-free diet.
Ingredients
3 bell peppers
15 oz. can black beans, drained and rinsed
1 c. corn
1 c. cooked rice
1/2 c. onions, finely chopped
1 1/2 tsp. cumin
1 oz. light cheddar cheese, grated
1 oz. Jalapeno Jack cheese, grated
2 cloves garlic, minced
1 tsp. cilantro
1/4 c. water
nonstick cooking spray
Directions
Preheat oven to 350 degrees. Spray 9″ x 13″ pan with nonstick cooking spray. Cut peppers in half lengthwise and remove seeds. Combine remaining ingredients minus cheese. Fill peppers with bean mixture until half full and place in pan. Pour 1/4 cup water in bottom of pan. Cover with foil and bake for 30 minutes. Remove foil and sprinkle each half with cheese. Bake uncovered for 5 minutes or until cheese is melted.
Can be served with steamed veggies, a salad, or baked potato.