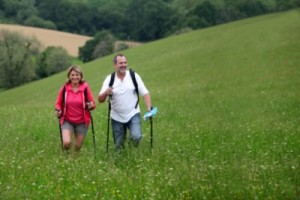 When you're in need of a quick snack to give you some energy and keep you full until meal time, this is the perfect option! The best part is that it's so easy to make ahead of time and package in baggies so you can have some any time.
The spicy chipotle helps to curb your appetite along with plenty of healthy fats to leave you feeling full. Just be sure to portion it out ahead of time or you're going to be eating way too much of it before you realize what you've done!
Ingredients
1/2 cups sugar
2 tsp salt
2 tsp ground chipotle pepper
1 tsp ground cumin
1 tsp dried oregano
1 tsp chili powder
2 egg whites
2 cups almond slivers
2 cups unsalted cashews
2 cups pumpkin seed kernels
Directions
Preheat your oven to 325 degrees F.
Add the sugar, salt, chipotle, cumin, oregano, and chili powder to a small bowl and mix well. Grab a medium bowl and add the egg whites. Add in all of the almonds, cashews, and pumpkin seed kernels. Mix well to make sure they're all coated with egg. Add the seasonings, tossing the nut mixture as you do. Make sure it's well mixed and coated.
Add a layer of parchment paper to your baking sheet and spread the mixture over it. Bake for 15 minutes, stirring about halfway through. Remove the pan and stir again. Turn off the oven and put the pan back in for another 15 minutes with the oven off.
Let the mix cool completely before snacking and portioning.