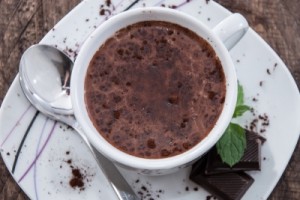 Sometimes you really just need some chocolate, and not just a little chocolate sprinkled or drizzled on something else. I used to go to hot chocolate for moments like that but there were times that just didn't quite hit the mark. I started thinking about those fancy drinking chocolates.
If you don't know what drinking chocolate is, it's kind of like hot chocolate but it's very thick. It's somewhere between hot chocolate and chocolate pudding and meant to be sipped on.
This recipe is very rich. You won't need a lot of it to get your fill! This recipe uses mint but you can use different extracts for different flavors.
Ingredients
2 1/4 cups milk
1/2 cup unsweetened cocoa powder
1/4 cup sugar
1 1/2 tbsp. cornstarch (be as exact as possible or the texture will be weird)
6 fresh mint leaves
1/2 tsp mint extract
Directions
Put all ingredients in a medium saucepan over medium heat. Whisk often.
Cook until it begins to boil. Once it starts to steam you should be whisking constantly.
Once the mixture boils, remove it from heat to serve.
(Optional) Remove the mint leaves before serving and either throw them out or put them on the top so you don't end up finding them unexpectedly in the cup.