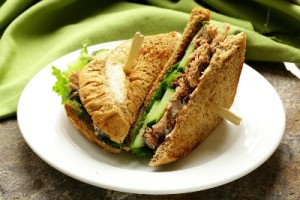 There are days where nothing beats a tuna sandwich. Most people pull out their can of tuna and load it up with mayo. It makes for a creamy sandwich, but it's not the healthiest option out there.
This recipe puts a healthier spin on the tuna sandwich. It's also open faced to cut calories while still being filling. If you really need to cut out carbs you could also eat this as a lettuce wrap.
Ingredients
1/3 of a ripe avocado, mashed
1 1/2 tsp lemon juice
1 can of tuna, try to go for white albacore if you can, drained
1 slice of red onion
1 slice of whole-grain bread, I like using sprouted wheat bread
Optional toppings for more flavor and fullness
Butter lettuce
Fresh baby spinach
Cucumber slices
Tomato slices
Dill pickles
Salt and pepper
Paprika
Directions
Mix the tuna, avocado, lemon juice, and any seasonings together in a bowl.
Lightly toast your bread. Spread the tuna mixture over your toast.
Top with onion and any of the optional toppings.