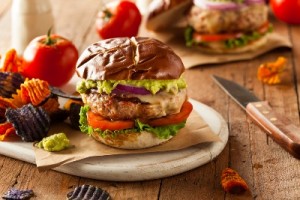 As the weather outside gets nicer and it starts to warm up it's got me looking towards the grill. I love a good burger! Some people shy away from turkey burgers, but do you want to know the secret? It's what you put on or in the turkey that really makes a turkey burger great. Green chiles add so much flavor and just a touch of spice. Add in some avocados and pico de gallo or tomato and you've got an awesome burger.
You can eat this burger on a bun just fine but I prefer to either eat it as a lettuce wrap or pop it on a plate with toppings and eat it with a fork to cut out the bread.
Ingredients
1 lb lean ground turkey
2 small cans of green chiles (4 oz each)
1/2 tsp cumin
1/2 tsp salt
1/2 tsp pepper
1 tsp garlic powder
1/3 cup fresh cilantro, chopped
1/2 red onion, chopped
3 Roma tomatoes, chopped
1 lime
1 avocado, peeled, pitted, and mashed
Directions
Add the onions, tomatoes, and half of the cilantro to a bowl. Squeeze the juice of the entire lime into it. Add 1/2 tsp of lime zest. Mix, cover, and refrigerate until the burgers are cooked.
In another bowl add the turkey, one can of chiles, and the cumin, salt, pepper, and garlic powder. Combine well.
Form the turkey into patties. This is enough for four full sized burgers or six to eight sliders.
Grill the burgers for around five minutes per side or until cooked completely.
While the burgers are grilling make sure you've mashed your avocado. In a small bowl mix the other can of chiles with the rest of the cilantro.
Once the burgers are done you can add them to the bun, lettuce or plate. Spread some of the mashed avocado on top and then spoon some of the tomato mixture and green chile mixture on top.