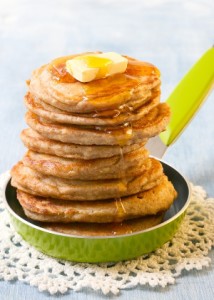 I love pancakes but between the higher carb content and the popularity of sugary toppings it can be hard to fit them into your diet without going over in calories. If you are craving pancakes but want a bit of a healthier spin, give these a shot!
Ingredients
1 cup buttermilk
1 cup whole wheat flour
2 tsp sugar
2 tbsp chia seeds
2 tbsp flax seed powder
1/2 tsp baking powder
1/4 tsp baking soda
1/4 tsp salt
1 egg
2 tbsp canola oil
Directions
Mix the dry ingredients in one bowl and the wet in another bowl. When the wet ingredients are combined well, slowly mix them into the dry ingredients. Stir until all of the visible loose flour is stirred in but don't worry about lumps. There should still be plenty of lumps in the batter.
Heat your griddle up to 375 degrees F and butter the top. Pour small scoops of batter onto the pan. The pancakes should be about 4 inches across.
They're ready to flip when little bubbles form on the top. After you flip, cook until the bottom is browned.
Top with your favorite fresh fruit or syrup.